Scotland Summer Garden Adventure

June 20 - 30, 2022
Join Huron Tours as we travel in first class style to visit some of the best gardens of Scotland!
From the vibrant capital of Edinburgh to the beauty of the Highlands, we'll tour grand castles and Royal estates, tranquil city gardens and smaller country hideaways including many that are normally inaccessible to the general public.
You'll be inspired and awed by Scotland's breathtaking scenery as we take in the clear air and profusion of flowers that characterizes summer in this spectacular locale.
Please read on for more details, then come join us in Scotland on this very special adventure.
---
Monday, June 20
Edinburgh Arrival, Private Welcome Dinner in The Pompadour Dining Room
Arrive Edinburgh and meet your tour managers and Huron Tours' owners John and Katie Kosta and official Blue Badge Guide Valery. Check-in to the Five Star Waldorf Astoria Edinburgh, The Caledonian. Free time for your own explorations before our private welcome dinner at the award-winning Pompadour Restaurant at the Caledonian. (Meals on flight, dinner included.)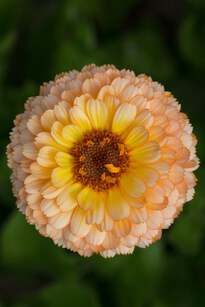 Summer blossoms
Tuesday, June 21
Panoramic Tour of Edinburgh, Visit to Holyrood Palace
We'll begin today with a private panoramic tour of Edinburgh given by our local guide and including a visit to wonderful Dr. Neil's Garden right in the heart of the city. Next, we'll spend a marvelous afternoon at the official residence of the British monarch in Scotland, Queen Elizabeth II, Holyrood Palace.* Our visit will include a private tour of the Palace gardens, lunch and a visit to the state apartments and Holrood Abbey. (Breakfast and lunch included.)
*Subject to the Queen's visiting schedule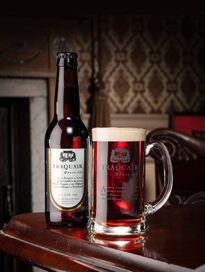 Traquair Brewery house Ale
Wednesday, June 22
Little Sparta, Lunch at Traquair House, Carolside Garden
Over the course of 25 years, the acclaimed writer, naturalist, and multidisciplinary artist, Ian Hamilton Finlay, created what would become his magnum opus, Little Sparta. This art garden spanning seven idyllic acres of forest and moorlands in the Pentland Hills outside of Edinburgh is a favorite of Huron Tours' founder, John Kosta, Sr. Little Sparta is by far the most celebrated twentieth century garden in Scotland and we'll be given a private tour.
We'll have lunch together today in a special place, Traquair House & Brewery. The property holds claim to being the oldest continually inhabited house in Scotland with sections dating back to the twelfth century and brewing was done here as early as Mary, Queen of Scots' visit in 1556.
Our final visit today is the private garden of Carolside developed by the passionate owner Rose Foyle over the last 28 years. This is a flower lovers paradise tucked into a bend in the River Leader at the heart of which is a glorious old walled garden. (Breakfast, lunch included.)
Thursday, June 23
Edinburgh Botanic Garden, Shepherd House Gardens, Private Castle Reception
This morning we'll privately tour the Royal Botanic Garden Edinburgh, affectionately known as "The Botanics. This 70 acre garden is a 350-year-old institution in a landscape of tranquil beauty. One of the finest in the world.
Lord and Lady Fraser live at our next garden, Shepherd House in the picturesque village of Inveresk just outside Edinburgh. It is here over the last sixty years they have designed their masterpiece. In this small, one-acre garden plants fill every border, spilling over arches and lining paths, which are the inspiration for Ann who is a botanical artist. What a gem!
We end today with a storybook Scottish evening at Dundas Castle, which dates to the 15th-century and is one of Scotland's most beautiful and historic castles. This evening we will have this stately home of Sir Jack Stewart-Clark and his wife Lady Lydia all to ourselves in a private affair that includes a tour of the Auld Keep, photographs on the castle's rooftop terrace, welcome and after dinner drinks in the castle's reception rooms and the main event, dinner in the candle-lit Stag's Chamber. We've also arranged a few surprises to make this exclusive evening a Huron Tours night to remember. (Breakfast and dinner included.)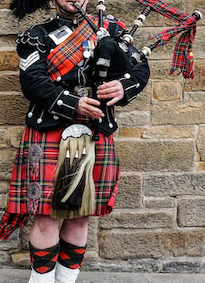 Keep your ears open!
Friday, June 24
Free Day in Edinburgh
A completely free day to enjoy all the magical city of Edinburgh has to offer. We'll include a list of suggestions in our final tour documents. (Breakfast included.)
Saturday, June 25
Train to Inverness, Lookout Gardens, Welcome Dinner at the Kingsmill
One of the best ways to view Scotland's stunning landscape is traveling by scenic train and today we will journey to the Scottish Highland and Inverness. On arrival we'll pay a special visit to the Lookout, an award winning three-quarter-acre elevated coastal garden with incredible views over the Moray Firth. Later we'll check-in to our home for the next four nights, the much-loved Kingsmill Hotel set within 4 acres of beautifully manicured grounds tucked away just one mile from the city center of Inverness. This Four-Star luxury property understands the true meaning of service with passion and is the ideal Highlands retreat! After settling in, we'll celebrate our arrival with a welcome dinner featuring an exquisite menu of sensational local dishes from the Highlands of Scotland. Our private dining room is extra special as it hosted renowned Scottish Poet Robert Burns in the late 18th century and his letter of thanks still hangs in hotel reception. (Breakfast included, dinner included.)

The Singleton - Balanced and complex
Sunday, June 26
Inverewe Garden, Glen Ord Distillery
We begin our day at The National Trust for Scotland's Inverewe Garden, one of the UK's best and most-loved botanical gardens. Created in 1862 by Osgood Mackenzie the garden covers some 20 hectares and is world renowned for the breadth of its collection of trees, plants and flowers all in a delightful setting on the edge of Loch Ewe.
A trip to the Scottish Highlands would not be complete without a visit to one of the area's famous whiskey distilleries. Nestled on the outskirts of Muir of Ord, Glen Ord Distillery, founded by Thomas Mackenzie in 1838, is one of the Highland's hidden treasures. We'll privately enjoy Glen Ord's 'Flavours of Scotland Tasting Tour' featuring an enchanting tour of the distillery and exhibition and a tutored nosing and tasting of 3 different whiskies.
Dinner this evening is on your own back in Inverness. Please consult our well-researched restaurant recommendations list. (Breakfast included.)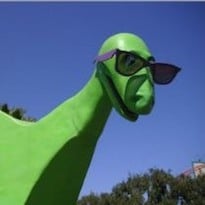 Keep a sharp eye on the water
Monday, June 27
Loch Ness Cruise, Urquhart Castle, Boath House Garden Tour & Dinner
During our Loch Ness cruise this morning you will want to keep your eye out for Nessie, the legendary monster that is said to take refuge in the depths of the Loch. We'll enjoy the sights and stop to see the ruins of the greatest castle in the Highlands, Urquhart Castle which served a role in the 14th century Wars of Scottish Independence.
This afternoon we will enjoy a bit of free time before we depart for a special evening together at Boath House, a historic 1825 Georgian mansion which is now a family-run country house hotel boasting of 20 acres of beautiful landscaped gardens. After a tour of the award-winning garden (Fodors named Boath House one of the Top 10 Hotel Gardens in the World) we'll enjoy private dining in the Kale Yard Cafe overlooking the kitchen garden where much of our dinner this evening will have been sourced. Another Huron exclusive! (Breakfast and dinner included.)
Tuesday, June 28
Balmoral Castle
Today is a royally special day out! Balmoral Castle has been the Scottish home of the Royal Family since it was purchased for Queen Victoria by Prince Albert in 1852. We will enjoy a full day here visiting the grounds, part of the castle, gift shop and cafe. We'll stroll the formal gardens on our private tour which cover some three acres and contain a range of Victorian glasshouses. (Breakfast included today.)
Wednesday, June 29
Drummond Castle, Return to Edinburgh
On the last full day of our Scotland adventure we'll say goodbye to Inverness and head to where lavish, living elegance awaits us in the form of legendary Drummond Castle. We'll enter together at the castle forecourt and pass through the iron-barred gateway to the inner courtyard, and on to the top of the terrace. The view from this point is one of the most glorious vistas in all of Britain. It is simply breathtaking! Rightly considered one of the finest surviving examples of the formal late Renaissance style in Europe, the terraced gardens of Drummond spill down and fan out in a state of regal order, as meticulously sculpted shrubs and trees vie for attention with precisely groomed, fabulously flowering planting beds. If you ever wondered what it is like to garden with the Scottish upper crust, Drummond Castle is your answer.
This final visit of our Scottish Gardens tour will be extra memorable as we will be treated to a private tour of these extraordinary gardens and in another "just for Huron" exclusive we have been granted the extraordinary privilege of touring the castle which is not usually open to visitors. We will end our afternoon with one final meal together, lunch on the castle's stunning grounds.
On our return to Edinburgh, we'll check-in to the Dakota Edinburgh Hotel, named after the 1930s Dakota airplane, the glamorous golden age of aviation which is the perfect theme for this wonderful property just 10 minutes from Edinburgh Airport. The Dakota offers luxurious style, impeccable service and award-winning dining. (Breakfast and lunch included.)
Thursday, June 30
Departures
All good things come to an end, but Huron Tours' garden loving travelers leave with new friendships, wonderful memories to last a lifetime and endless garden inspiration to carry home with them! Our private car service will pick you up in the hotel lobby for your return flights. (Breakfast included.)
How to Book
A $1,000 per person deposit will hold your space. Please use the link above or below to access our online shopping cart. If you'd like to reserve over the phone, we'd be happy to talk to you and can be reached at either (504) 267-2057 or (800) 734-1192.